Good things have many names
'Varlık' portrays Turkey's first feminist poet; 'New Humanist' discusses racism and identity politics; 'Passage' seeks a different Denmark; 'Glänta' compares town and country; 'La Revue nouvelle' challenges managed immigration; 'Soundings' thinks beyond traditional forms of public ownership; 'Merkur' salvages the relationship between humans and nature; 'Esprit' says no to the mechanization of the world; and 'Vikerkaar' looks deeper into thingumajigs.
Varlık (Turkey) 3/2017
In an issue of Varlık on women writers and writing, Murat Batmankaya portrays the life of poet Yaşar Nezihe and her perseverance in the face of patriarchal oppression, material need and political adversity. Born in 1882 and receiving practically no formal education, she taught herself to read and write through sheer force of will, publishing her first poem at the age of fourteen. Over the course of repeated marital betrayals, unabated poverty and the loss of two sons, Nezihe developed strong socialist and feminist convictions, becoming the first Muslim woman to be photographed unveiled in the Ottoman press and the first woman to write for the journal of the Communist Party of Turkey.
Nezihe's political engagement and outspokenness about her own poverty brought her to the attention of the authorities, who detained her briefly in 1923 for 'communism'. Her publications around this time earned her a degree of recognition; she appeared in almost every edition of Women's World, the first magazine devoted to women in Ottoman Turkey. From the mid 1930s, however, she disappeared from sight and published nothing between then and her death in 1971. Eurozine publishes an English translation of this moving portrait of the poet Yaşar Nezihe article to mark International Women's Day on March 8.
Also: Nilgün Tutal on totalitarianism and lies. 'Totalitarian regimes position themselves beyond good and evil, truth and lie. They are skilful in substituting lies for truths, making them indiscernible. They are built on the domination of lies.'
More articles from Varlık on Eurozine; Varlık's website
New Humanist (UK) Spring 2017
In New Humanist, Anti-racism activist and academic Vron Ware talks to teacher and journalist Lola Okolosie about the new and insidious racism contained in the term 'white working class'. Increasingly used as a positive identity marker in connection with the 'populist revolts' in Europe and the US, it 'provides a coded and apparently safe way to talk about the intersection of race and class; safe because it immediately projects on to working-class people a particular set of attitudes, resentments and feelings associated with their class position.'
'White working class' used as a blanket term to convey the economic neglect of predominantly white areas, 'doesn't take account of politics, of place, of regional differences, of local economies and the end of certain industries, of educational policies, and so on. And it lets the middle and upper classes off the hook, despite the fact that they occupy swathes of the country that voted for Brexit and are deeply suspicious of "foreigners".'
Post-truth politics: When ideological assumptions are shaken, fact loses its authority. Silvio Berlusconi was the first to channel this dynamic into a contemporary form of populism, argues essayist Giovanni Tiso. 'If there is a lesson in the rise of Berlusconi, it's that his post-factual edifice was partially exposed, but only after his political project had exhausted itself.'
More articles from New Humanist on Eurozine; New Humanist's website
Passage (Denmark) 76/2016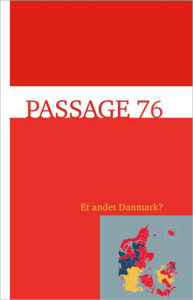 Both the Brexit referendum in the UK and the presidential elections in the US revealed how politically dived western societies have become. Women vs. men, blue-collar vs. white-collar, or city vs. countryside – deep chasms are opening up everywhere.
The Danish parliamentary elections in 2015 were little different. The success of the rightwing populist Danish People's Party, especially in rural regions, triggered a discussion about Danish values. As opposed to the 'battle of values' (værdikampen) fought twenty years ago, the question today is not what to believe or which values to promote and preserve, note the editors of Passage. It is rather whether it makes sense to talk about a coherent 'we' at all.
'This scepticism becomes visible not only in politics, but also in a wide range of other symptomatic phenomena: the focus on the relation between centre and periphery in contemporary Danish literature; the debate on whiteness and racialization among literary critics; a renewed interest in Danish colonial history … Many interpret these trends as signs that the idea of the nation and its foundations is about to crack.'
A public vote on what Danish values should be included in a new national canon was held last year. However the whole idea was obsolete long ago, argue the editors. 'The question about what is particularly Danish is being overshadowed by the question about who the "we" that was supposed to stand behind the canon actually refers to.'
Homeless bodies: Reading recent works by Eva Tinds, Maja Lee Langvals and Yahya Hassan, literary scholar Tobias Skiveren shows the kinds of strong emotion triggered when racialized bodies are excluded from 'Danishness'. Yahya Hassan – described by Literary Hub as one of Europe's young literary superstars – expresses the discrepancy between body and culture as follows:
'THE VOICE COMING OUT OF MY MOUTH IS NOT MINE
DOESN'T BELONG TO THE BODY
WHERE DOES IT COME FROM'
More articles from Passage on Eurozine; Passage's website
Glänta (Sweden) 3-4/2016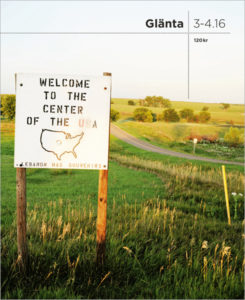 Glänta focuses on what the editors call the 'tensions between city and countryside, centre and periphery'. Suddenly, they argue, rural life has taken centre stage; that is where things are happening now, things that 'are deciding the future of the world'.
In an article originally published in Sociology of Development and amended for Glänta, Saskia Sassen claims that today's migration differs from that of the past. 'These … are not the migrants in search of a better life who hope to send money and perhaps return to the family left behind. These are people in search of bare life, with no home to return to.' People leave rural areas land-grabbed by countries or international companies and move to big cities, where they are confronted with gated communities and violence – only to have to leave again. 'These trends are enormous challenges to the international system, with Europe the destination of most of these flows.'
The Riace model: 'Welcoming refugees is a way forwards for a European countryside caught up in the crisis of rural depopulation,' writes Olav Fumarola Unsgaard in a reportage connecting the small city of Riace in southern Italy with the Swedish municipality of Lessebo.
In 1998, a ship carrying 218 Kurdish refugees landed close to Riace. Domenico Lucano, the mayor, has since become something of a legend (even making it onto Fortune's list of the world's 50 most important politicians). Ever since he and the inhabitants of Riace decided to take the newcomers, their community has been different. 'Riace is poor and down at heel,' writes Unsgaard. 'But as far as the economy is concerned, the arrival of the refugees saved this city.'
Lessebo, one of the cities in Sweden – and in Europe – to have received most refugees per capita, is the northern equivalent of Riace. Two years ago, people started to talk about schools having to close down. 'Today', says the 'refugee strategist' of the municipality, 'we have had to build additional pavilions to be able to accommodate all the students.'
Is there a Riace model? Is there a Lessebo model? Yes, argues Unsgaard. 'These cities certainly need investments coming from afar. But they also need people who move into the empty villas, the apartments and hotels that just stand there without any guests. Only then can wealth be sustained and schools be kept open.'
More articles from Glänta on Eurozine; Glänta's website
La Revue nouvelle (Belgium) 1/2017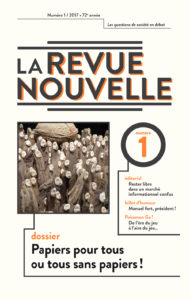 In La Revue nouvelle (Belgium), Noureddine Arbane and Andrew Crosby observe two problematic trends in 'managed immigration', in which 'foreigners are a commodity for the state' used for labour during periods of growth, only to be expelled during recession.
The first trend divides and rules by distinguishing between 'good' and 'bad' migrants, demonizing some as 'bogus asylum-seekers', 'economic migrants' or 'illegals'. The second trend arises out of the 'humanitarian motive', which requires migrants to prove their vulnerability. Humanitarian discourse obscures the context of power relations: criminalization and humanization enable a differentiated yet restrictive treatment of foreigners: 'They are complementary: the one makes the other acceptable.'
Family reunification: 'The right to a family life', enshrined in Article 8 of the European Convention on Human Rights, is increasingly questioned in politics and the media. Family reunification was once encouraged to stabilize the foreign workforce, however now is seen as a burden, write Carla Mascia and Laura Odasso.
The issue has become  'judicialized', with the authorities, families, lawyers and judges all playing a role in an ever more complex process. The right to a family life is invoked not only by families themselves, but authorities defending the need to protect 'legitimate' families against 'fraudulent' ones. 'This invites us to look at this right in a new light: it does not simply lay down the "just" order of things, but also represents a resource that can be exploited by actors on both sides, according to the power relationships at stake.'
Also: Oliviero Aseglio looks at the situation of LGBT refugees; Renaud Maes discusses Pokémon Go; and Luc Delfosse takes a humorous look at Manuel Valls's doomed presidential bid in France.
More articles from La revue nouvelle on Eurozine; La Revue nouvelle's website
Soundings (UK) 64/2017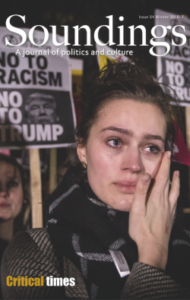 Soundings publishes a roundtable discussion on political alternatives both to neoliberalism and to state managerialism. Lazaros Karaliotas focuses on the squares movement that emerged when the Greek crisis broke in 2011. 'Articulated around new modes of saying, being and doing in-common', it has inspired a range of new social experiments 'throughout the urban fabric' that 'reflect the desire to create something durable, something that could move beyond spectacular (urban) uprisings and single-issue based struggles.'
Berlin: Ross Beveridge and Matthias Naumann look at Berlin – a city 'where the left have often been strong' but also in which 'the unfolding of globalization and urban neoliberal policy is intense'. Social movements around public space and infrastructure in the 2000s have resulted, among other things, in the re-municipalization of the Berlin Water Company and the stop on development of the site of the former airport at Tempelhof.
However, gentrification, touristification and the privatization of public goods also continues. With broad political support for some form of public ownership, the key challenge for social movements is to offer 'viable alternatives' to traditional models. A 'narrative of political change rooted in, but reaching beyond, the everyday might offer the best way of achieving broader public support'.
Also: A roundtable on the political implications of Brexit and on potential political responses; Colin Leys on the neoliberal conception of health provision; and Gideon Calder on the family and 'the spell of social mobility'.
More articles from Soundings on Eurozine; Soundings's website
Merkur (Germany) 3/2017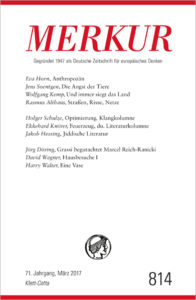 It was officially declared on 29 August 2016 at the International Geological Congress in Cape Town: we are living in a new geological epoch, the Anthropocene. From the plutonium fallout of atomic tests to the increased use of fossil fuels and substances such as plastic and aluminium, human activities have changed the face of the Earth on a planetary scale from at least the 1950s onwards.
Merkur offers some utopian responses to this age of ecological crisis. Eva Horn argues for a radicalized concept of sustainability, in which 'the human per se has to be reimagined and the social is not limited exclusively to humans'. This may show how to reconcile 'ecological aims with "more acute" problems such as poverty, social and economic justice and much more besides'.
Humans and other animals: Philosopher Jens Soentgen traces the evolution of a 'geography of fear' that has emerged between animals and humans, particularly since the introduction of firearms and other increasingly deadly weapons into hunting practices.
However, there is nothing inevitable about human technologies destroying nature. Roughly a century after the 1864 invention of a harpoon that could kill a blue whale, scientists using an ultrasonic microphone discovered whale songs. It is not too late for reconciliation between humans and wild animals, Soentgen insists.
Death of the blogger? Ekkehard Knörer considers the transient nature of the digital revolution in an age where Facebook and Twitter have eclipsed a once thriving blogosphere. At the same time, he wonders whether there is a connection between the emphasis on personal experience in social media and the popularity of autobiographical literary works.
More articles from Merkur on Eurozine; Merkur's website
Esprit (France) 3/2017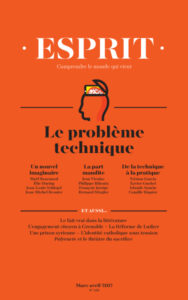 'How can we say no when the machines have won?' asks Jean-Michel Besnier in an issue of Esprit on 'the problem of technology'. The human power 'to refuse to accept that things are simply the way they are' is what distinguishes us from other animals, he claims. A world dominated by machines would eliminate this capacity and usher in an era of inhumanity. For Besnier, the prospect of humans merging with machines – 'seen as a glorious future by transhumanists' – is a horrifying prospect.
Can we rebel? Surely not against all those instruments of medical progress that have transformed lives; but perhaps it is time to show that we can resist the march of all that mechanizes us. 'If there is still time to fight back, this will be via an epiphany that will itself mean that we have not altogether lost the power to say no.'
Technology as saviour? For all humanity's progress, we are entering an age not of abundance, but of penury, warns Philippe Bihouix. Historically, humans have always used technology to combat poverty, with polymerization ultimately solving a post-industrial over-reliance on raw materials. And yet, the costs of our headlong pursuit of progress have become apparent in pollution and environmental destruction, which thanks to cheap transport is often out of sight, out of mind.
There is nothing virtual about digitalization, requiring as it does vast swathes of land, sea and infrastructure, not to mention virtually irreplaceable rare metals. With a hundredfold explosion in internet use, efficiency savings count for little; major cutbacks to protect our rare resources are necessary and also achievable. 'It seems utopian … but perhaps no more so than the status quo, maintaining our industrial civilization in perpetuity on its precarious exponential trajectory.'
Also: Interviews with Yannick Haenel and Laurent Mauvignier on 'The taste for realism in the contemporary French novel'; Ramin Jahanbegloo on Iran after Rafsanjani; and Rose Réjouis with a provocative parable of integration.
More articles from Esprit on Eurozine; Esprit's homepage
Vikerkaar (Estonia) 1–2/2017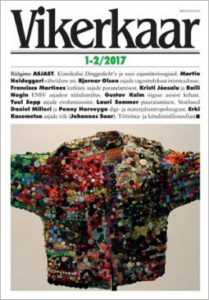 Things. They are all around us, yet we find it difficult to understand them. What do they do? How do they acquire meaning? Anthropologists, historians, literary scholars and sociologists have been rediscovering things recently. Thing theory, actor-network theory, the new materialism. Good things have many names. Vikerkaar opens up the black box of things and inspects the contents.
Thing theory: Archeologist Bjørnar Olsen argues that overeager social constructivists have forgotten the durability of things, their roughness, their inelasticity, qualities that 'render social life, memory, misery and welfare possible'. And anthropologist Daniel Miller rejects a neat separation of the physical and the digital and, looking at Chinese factory workers, shows how virtual migration can be more transformative than migration in physical space.
(Post-)socialist things: Ethnologists Kirsti Jõesalu and Raili Nugin argue that Soviet-era things have become objects of nostalgia that evoke critique of mass consumption. People born in the 1970s fondly recall objects such as vinyl records, candy papers and bananas because of the social value they held as things. In the Soviet period, things were rare, and therefore valuable; today, things are consumed and discarded. Similarly, Francisco Martinez writes on the practice of repair as a way of healing the wounds of post-socialist transition and of building affective bonds where the market forces people to think of each other only as rational and expendable actors.
Things as literature: From the German Dinggedicht or 'thing poem' to mythologies inspired by Roland Barthes, Estonian writers and poets take a stab at thing-inspired literature, covering things as different as Christmas hats, meat jelly, morning gowns and matchboxes.
More articles from Vikerkaar on Eurozine; Vikerkaar's website
The Eurozine Review presents a selection of the latest issues of Eurozine partner journals, summarizing their contents in English as a way of encouraging cultural and political dialogue between national public spheres in Europe.
Published 13 March 2017
Original in English
First published by Eurozine